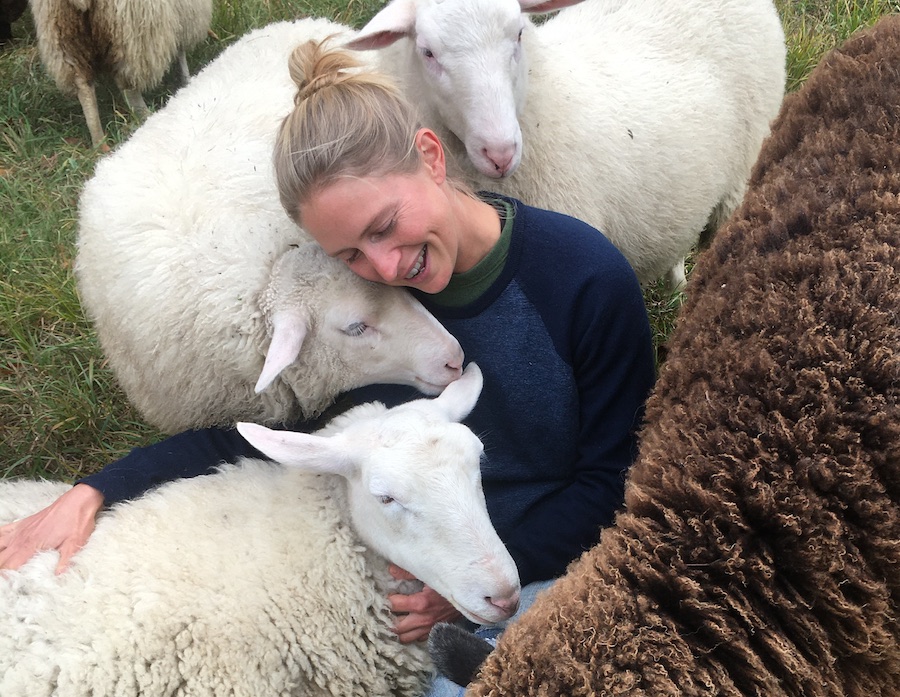 Stennie with her sheep
I established Tuuli Farm in 2020 while living in Vermont, but the pull of the prairie and the desire to live closer to family prompted me to begin my search for land access in the midwest. I connected with my landlord through Practical Farmers of Iowa, and now I'm thrilled to be tending a little corner of the Loess Hills in west central Iowa. This is the traditional, ancestral and contemporary land of the Omaha, Yankton and Očhéthi Šakówiŋ People.
I moved here with my flock in June 2021, and I'm beginning the process of getting to know this place and how to care for it and my sheep here. Through carefully managed grazing, I hope to nurture the unique biodiversity of this place, to reestablish and encourage the prairie.
The Tuuli flock are primarily Finn and Romney crosses bred for fiber and grass-finished meat. I work with fiber mills whose equipment can accommodate small batches of fleece, so that each sheep's individual color and character can be showcased in their own yarn. I batch the white sheep's fleeces by family for spinning and then hand dye them using plants I've grown or foraged. I especially love growing Japanese Indigo, for fresh leaf dyeing techniques as well as fermenting and extracting the indigo pigment for wintertime vats.

Tuuli Farm grass-finished lamb is available by reservation only and sold by the half and whole. Please contact me with questions and to make your reservation.

Tuuli Farm provides me with the space to deepen my own relationship to my flock, garden, and the living earth. These relationships flow through the yarn and meat, which are a celebration of all our connections and an invitation to deepen them.
Follow along @tuulifarm